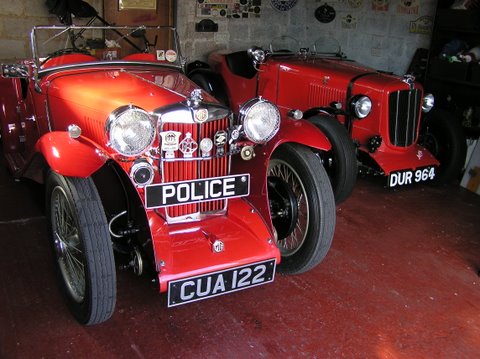 Old Cars in the UK
by John Stringer
Hi, I usually come over to New Hampshire in September to visit my very good friends Barry and Carol Podmore at Alton Bay and attend the British Invasion Show at Stowe,Vermont, last year we attended the BCNH meeting at the Budweiser brewery and I must confess this was one of the highlights of my visit to the U.S.A especially as Barry received a prize for his Triumph TR250. Unfortunately this year we did not arrive early enough for the current event, (sunning it up in Florida) very disappointing.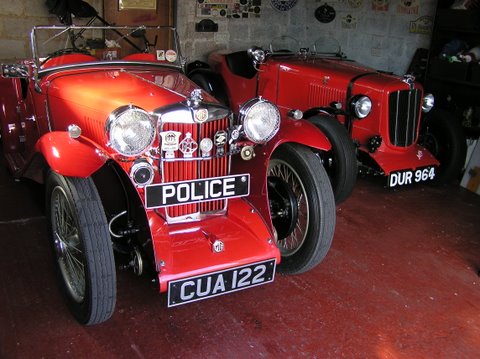 While talking to Carol she suggested that I could perhaps write a few words on my old cars over here in the UK, I have a 1935 M.G PB which is ex Leeds police, a 1938 Morris 8, which I have re-built as a special two seater, and a 1954 Land Rover series 1 ,ex military, my partner Ann has a 1973 Triumph TR6, owned from new and with only 46,000 miles on the clock is exactly as it left the showroom no re-paint, no welding.
For some time I had looked for a stable mate for my other cars and viewed around eight MG PA's a car I fell in love with many years ago, as with all things old car none of those I looked at when compared with the price asked met with my approval, then I noticed a private ad for a PB, only 525 of these had been manufactured and although basically the same body style as the PA did have the advantage of a slightly larger engine, close ratio gear box and therefore more lively performance, and as they say, more desirable.
The car was located within sight of the Humber Bridge so a visit was arranged to view, the present owner a retired oil industry engineer had bought the car in 1976 and spent over 10 years restoring it , now at seventy five years old and unfortunately suffering heart problems had resulted in him driving the car for only a hundred miles last year , adding to the 4400 it had done since restoration , although some faults became evident it looked a good straight motor car. A week later I re contacted him to say I would like to have another look, visited and a deal was done.
Registered in October 1935, it was purchased new by Leeds City Watch Committee for use as a Police Patrol car. The Chief Constable authorising the return of the car to Abingdon for modification to full Police specification in January 1936.
MG police cars , supplied by Appleyards of Leeds all seemed to have raised compression ratios and KLG 762 plugs and full police specification to include the seat relocated some 3 inches further back,(big lads these Northern bobbies) archimedean petrol gauge, oversize tyres, battery isolation switch and a fully corrected ,extra speedometer.
Evidently Leeds City cars hoods were never raised and officers would wear warm, double breasted overcoats when on duty.
According to an advert in the April 1937 magazine "The Sports Car" following its police service the car came up for sale with a mileage of 28,183 at a price of £145.
This type of light weight car fitted with the single overhead cam shaft engine, close ration gearbox, very firm suspension ( if you drive over a ten pence piece you can tell if its heads or tails) and 12" diameter cable operated brakes had many racing successes, especially when supercharged. In today's traffic it still manages to hold it own and is very rewarding when full use of the free reving engine, gears and road holding are made.
Weather equipment comprises a detachable hood with side screens which when erected provides very "snug" accommodation.
Specification:
60mm bore X 83mm stroke, volume of 939c.c
Carburettors: twin S.U. supplied by a 12 gallon petrol tank with 3 gallons in reserve.
Gear box: 4 speed and reverse
Overall length 10'-11"
Overall width 4'-4"
Weight 14 cwt
John Stringer